---
Game test: Cossacks – real-time strategy in the 16th century
New strategy title from CDV
After Sudden Strike, CDV Software Entertainment is launching another strategy game with a historical background and promises exciting real-time battles in the past centuries.
The recommended tutorial prepares the player for the military leadership of 16 nations. Among them the European powers and some nations from Africa and overseas. In this way, the course of history can not only be re-enacted, but at least virtually changed. The five campaigns deal with themes such as colonization and wars of independence from the beginning of the 16th century to the end of the 18th century.
In order to do justice to the balance of power, every nation has the same kind of units as pikemans, musketeers or frigates. Otherwise, every nation corresponds to the historical model and thus also determines the strategic means. England, for example, is the strongest naval power, while Germany has a strong army. Various special units such as the Royal Guard individualize every nation.
Almost all units consume resources continuously, which can have serious consequences. Even the most loyal followers go on strike without food and a little change in their pockets increases morale. Cannons or similar troops also consume coal and iron for each shot to simulate ammunition supplies. These resources are obtained together with wood and stones from hardworking farmers who also work as builders. Thinking big is the motto, because after all, up to 8,000 men are to be supplied in one scenario.
The buildings differ from nation to nation in their appearance, but not in their functions, which can be divided into civil and military. The tasks include the production of troops and resources and their storage. More interesting is the market where you can shop for resources shortages. Various buildings provide the army with upgrades, of which there are said to be over 300 according to the CDV. But if you count the infantry of each state as a new unit with new upgrades, it is not surprising.
Tactically, this game has some delicacy to offer. In addition to altitude levels, which result in better visibility and range, the terrain also affects the effectiveness of some weapons. Heavy bullets that fall into a swamp do far less damage than rocky ground. The probability of a hit also decreases with increasing distance and buildings or artillery that are unprotected by the enemy can be captured without further ado.
The graphics are convincing right from the start. All units and buildings are very lovingly and detailed designed. When buildings are erected, this takes place in several logical stages and even the destruction does not occur with a bang, but also in several shades. Ships burst into many splinters that create splashes on the water – small details that please the eye. The whole thing is viewed from an isometric view that cannot be rotated or zoomed.
Unfortunately, no music was implemented in our English test version and the interface also left something to be desired. Among other things, there is a lack of feedback. The cursor does not indicate whether you can select something or give a move command, and the console does not show how many units you have just activated. Hopefully this will be fixed until the final version.
Verdict:
Small weaknesses in the controls can be accepted in view of the loving graphics and playful depth. Cossacks offers a tremendous variety that satisfies strategists and is especially interesting for multiplayer games.
---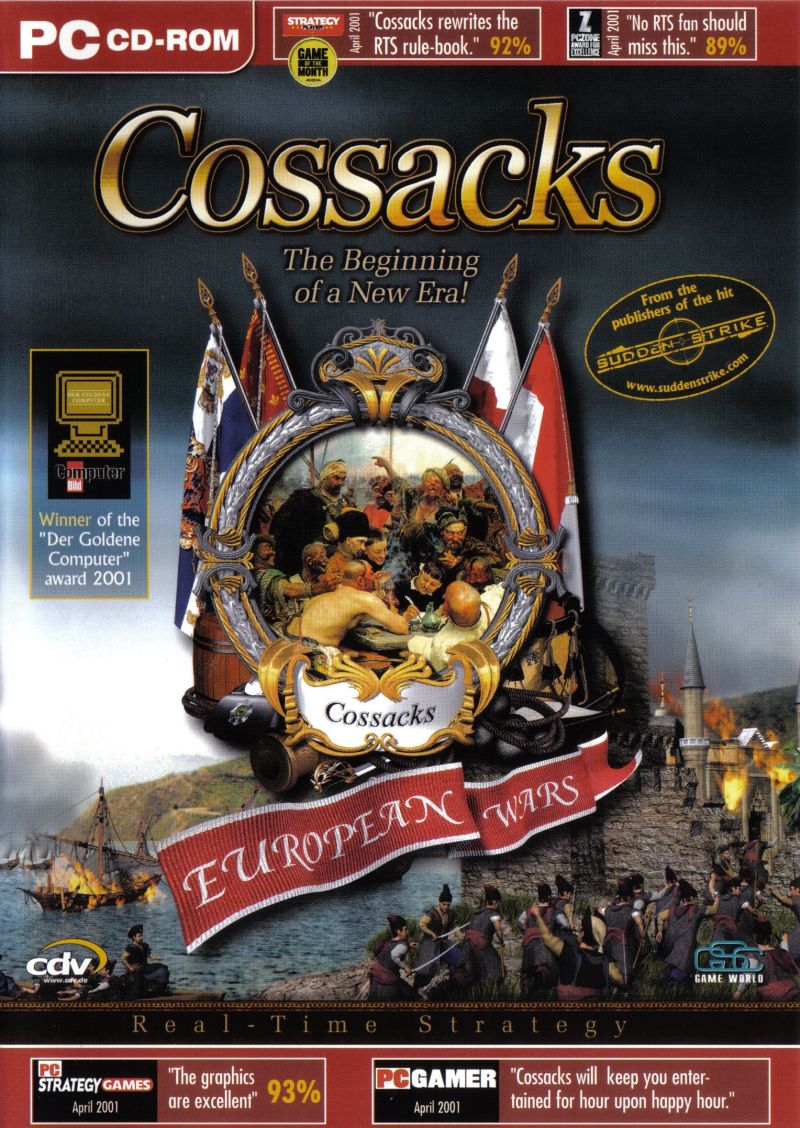 INFORMATION ABOUT THIS CONTENT:
Originally posted: golem.de (LINK) (ARCHIVED)
Date of publish: 30.11.2000
Author: unknown
Language of publish: german