---
game description 
European Wars: Cossacks is a real-time historical strategy based on events of the XVI-XVIII centuries in Europe. It was time when nations and states were created and demolished, gold was turned to numerous armies, and unceasing wars shed seas of blood. It was time when new regulations were developed in armies, and commanders' mastery was polished to perfection. The new era began… with cannonade thunder and bullets' whine…
game requirements
Minimum Specifications:


Pentium 200




32 MB RAM




SVGA

Direct 3D Recommended Specifications:


Pentium II 450




64 MB RAM




SVGA 8MB




Direct 3D
editor review
Yeah, and it was one bloody good time as well. Cossacks is the perfect example of how you can get caught up in a game without really thinking about it.
Onward Killing Soldiers
As with most RTS games, most of the game's enjoyment is based on minute detail and strategy. You get both in Cossacks. Mine ore (gold, coal, and iron)to build stone walls and towers, cut down trees to build houses and stables, erect windmills to process wheat — sounds exhausting and it is. Every detail is perfectly balanced, especially unforeseen details, like peasants falling dead of famine.
There's even detail in the sound. Bugle calls to announce the arrival of enemies, thundering explosions from artillery fire, and even the ping of musketeers bullets off of armor are all excellently done. The only offset is the annoying ambient birdcalls during peace.
Send in the Crowns
There are several branches that you can take the technology you build as well — and all of this is done with an easy to use and understand interface. You don't have to go plodding through the manual — although you may want to so you don't get caught with your pantaloons down.
Cossacks is a great RTS, and much like Seige of Avalon, rich with history. If you like strategy games, you'll love Cossacks.
Graphics: 4.5 – Not as good as Age of Empires, but not bad. some great detail (like people dying of famine right before your eyes).
Sound: 4.5 – Although the ambient bird-twittering is kind of repetitive, the charge bugles and explosions rocked the speakers. 
Control: 4.5 – Just as easy and as intuitive as Age of Empires or any other RTS. 
Hotscore: 4.5 – Not bad as far as RTS games, and hopefully the full version has some added options. 
---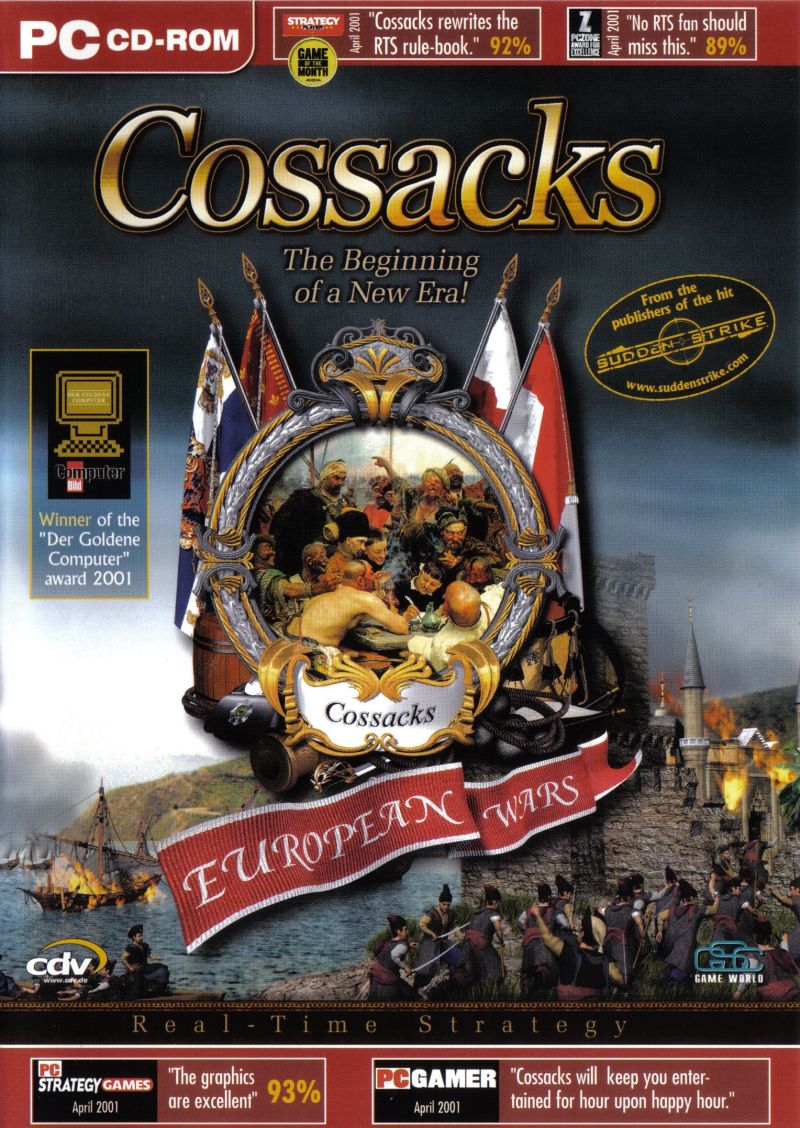 INFORMATION ABOUT THIS CONTENT:
Originally posted: pc.hotgames.com (LINK) (ARCHIVED)
Date of publish: 10.2000* (exact date is not known)
Author: Lawrance Neves
Language of publish: english