---
Cossacks The Art of War is a historical strategy game. Set many years ago when the most destructive weapons known to man were cannons, this game is going a fair way back in history. You may well ask what is the point of this game? Now that games such as Red Alert 2 or Total Annihilation are out, with many excellent weapons such as Nukes, Ion Cannons and Flamethrowers, surely Cossacks The Art of War is out of date? You're wrong, because this game reconstructs the best part of ancient battles – namely BIG MASSIVE ARMIES. This game can render eight thousand (yes, really 8000) units on the screen at a time. Therefore, you really can have two massive armies duking it out, in one big bloody battle.
To be absolutely fair, all those features were also part of the original Cossacks. In that case, what benefit is there in buying The Art of War? For starters, there is a Map Editor, enabling you to make that perfect map to defend, or maybe even to give the enemy a vastly superior base for that little extra challenge. In addition, there are five new campaigns, giving you over thirty extra missions, which are spread across maps sixteen times larger than Cossacks European Wars. There are also new orders you can issue, such as guard and patrol, and an excellent global ranking system for multiplayer games. For the icing on the cake, the game also includes a couple of new units, new multiplayer games, and 6 new historical battles to play including the English Civil War.
The game itself is equally impressive. The music is nice, and some of the tunes are quite catchy. The sound effects are also excellent, with very realistic sounding cannon and musket fire. Unfortunately, the sound of swords clashing didn't really appeal to me, and reminded me too much of Warcraft 2. The Art of War is also very nice to look at. The graphics are good, although the range of different animations is slightly limited. Having said this, even at the highest screen resolution with hundreds of units, the game plays fluidly with no jerkiness in sight.
Playing the game, I have realized a fault that is sadly present with virtually all add-ons is missing from this one. I have been playing this game for hours and hours, and still am nowhere near completing the game. I still have several more campaigns to try, a few maps to build, some friends to obliterate at multiplayer, the list goes on. For an add-on, the length of the game is amazing; there is just so much to do. Some add-ons like Yuri's Revenge for Red Alert 2 were seriously lacking in the length factor. I myself completed Yuri's Revenge in less than a day, which is rather poor for a game that cost almost twenty quid. However, Cossacks The Art of War will keep you happy for a month at least, you really won't be able to decide what to do first.
One fault with the game is the enemy AI. The creators of the game claim the AI has been improved, but it is hard to see where that improvement has gone. You can shell an enemy base to bits with your cannons, and they won't bat an eyelid. Even when a cannonball kills the 5 people next to a general, he just stands there oblivious to the danger. The AI also sends men on suicide missions. It is not uncommon for a man armed with just a sword to be sent to stop an entire army armed to the teeth with cannons, guns, and every other weapon you can think of. Having said that, some of the missions would most likely be impossible to finish if it weren't for the AI's willingness to let its men die.
In conclusion, Cossacks The Art of War is without a doubt the best add-on I have ever seen published for a game. You can tell it hasn't been knocked together in 5 minutes, and it will easily keep you busy for ages with the sheer immensity of the missions and features available. Probably the biggest flaw is that you need to own Cossacks European Wars before you can play this game, but I certainly wouldn't mind investing more money in order to play this add-on. With all the thought and consideration that has gone into this game, it becomes hard to award it less than 5 stars.
REVIEW SUMMARY
The official add-on to Cossacks European Wars, this game adds an impressive amount of bang for your buck. Being simply crammed with features, missions and a whole lot more, this will easily be the best purchase you have made this week. With an excellent soundtrack and fluid graphics this game is definitely a must have.
REVIEW SCORES
Graphics: 4/6
Sound: 5/6
Gameplay: 4/6
Length: 6/6
Overall: 5/6
---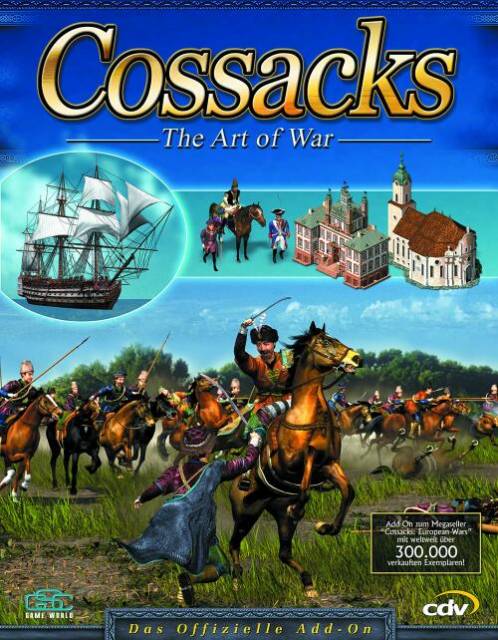 INFORMATION ABOUT THIS CONTENT:
Originally posted: nlgaming.com (LINK) (ARCHIVED)
Date of publish: 28.02.2002
Author: Alex Price
Language of publish: english