Cossacks: European Wars, from Ukranian developer GSC Game World and publisher Startegy First, will inevitably be compared to Microsoft's Age of Empires series (and in fact covers the time period that AOE III, should it ever be produced, would logically cover). While it does share many similar gameplay mechanics, Cossacks does manage to come up with a few twists of its own.
The immediate difference, of course, is the time period covered—the 16th through 18th centuries. For those unfamiliar with this period of European history, let's just say that it was a tumultuous era indeed. Nation states struggled for independence, kingdoms sought to increase their holdings against a crumbling Holy Roman Empire, civil wars raged across the landscape, ownership of the New World was being contested, and the Protestant Reformation threatened Catholic authority everywhere. It was a time of technological, political, religious, and social upheaval that gave birth to the Age of Reason, the stirrings of democracy, the re-emergence of standing professional armies, and imperialism. With the advent of gunpowder and advanced metallurgy, cannons and muskets became the weapons of choice—forever changing the face of warfare.
On the surface, with its 3D terrain, highly detailed structures and units, Cossacks looks like a fairly straightforward real-time strategy game, i.e., the gathering of resources (gold, iron, coal, stone, wood, and food), building the various structures that produce weapons, advances, etc. However, it is in the sheer number of opponents and allies involved, with their own unique strengths and tech-tree advances (up to 300 upgrades are possible) that allows Cossacks to stand out from the pack. There are 16 nations that you can play as, with, or against: Algeria, Austria, England, France, Netherlands, Piemonte, Poland, Portugal, Prussia, Russia, Saxony, Spain, Sweden, Turkey, Ukraine, and Venice. Each country has its own original look, specialized economic and technical development, military advantages and drawbacks—which should allow for plenty of tactical, strategic, and diplomatic possibilities. Among the military unit types available are infantry, cavalry, artillery, and naval forces. Nations will use their unique units along with units common to all sides.
The game landscape is full 3D and lends itself to all the tactical benefits and drawbacks that varied terrain entails. For instance, capturing the high ground is always a big plus, while narrow passages through mountains and canyons are ideal for ambushes. Real physics modeling should spice up things as well since units climbing hills will be slower, but will gain greater line of sight the higher they go. Cannon fire, for example, will be even more effective if used on rocky ground, as shattered rocks will act as shrapnel. Artillery and musket fire will be subject to physics as well, with dispersion patterns and accuracy being subject to the unreliability of smoothbore barrels.
The game's economic component will be of great importance. By creating markets you can sell, buy, and change resources, with all the attendant ups and downs inherent in a supply and demand model. All units in Cossacks consume resources, some military forces even need to be paid in gold, and artillery and muskets depend on iron and coal to fire. Thus, it is not enough to just spend resources on buying soldiers, cannons, or vessels. It is absolutely vital to keep up your resources in order to maintain your army and support its ability to wage war. Failure to maintain your resources will result in famine, riots, and mutinies.
Single player games are comprised of single missions, campaigns, and random map mode. Multiplayer will support up to eight players via modem, local network, or Internet, and is comprised of a historical battle mode and a random map mode. Historical battles will be precise reconstructions of the real thing—including accurate maps, terrain, army placement, and structures. In the random map game, players will be able to choose (among other things) landscape type, the map, and resources.
Cossacks will feature more than 85 large-scale wars and battles of the 16th-18th centuries for single game and multiplayer. Among the historical conflicts represented: Thirty Years War (1618-1648), the English Civil War, the English and Dutch wars, the War for Spanish Succession, the Northern war, the War for Austrian Succession, the Seven Years War, the Ukrainian Independence war (1648-1657), and naval battles against pirates. Though not seen in our limited version, the game will support up to 8000 units in a battle (shades of Shogun: Total War). The game will also come equipped with an encyclopedia detailing historical and technological data.
The early build we saw plays very well, with an AI that is very aggressive even in easy mode. Building structures is a snap, so is harvesting resources, and farming needs much less micro-management than in, say, Age of Empires II. You pretty much have all the basic troop commands at your disposal—formations, groupings, attack, stand ground, etc. The AI pathfinding seems logical, with no visibly wayward formations. The game doesn't initially stand out as far as historical real-time strategy games go, though the terrain and structures do look very nice, but dig in and you'll see that this one promises to offer quite a bit of playing depth. Cossacks should be available early in 2001.
---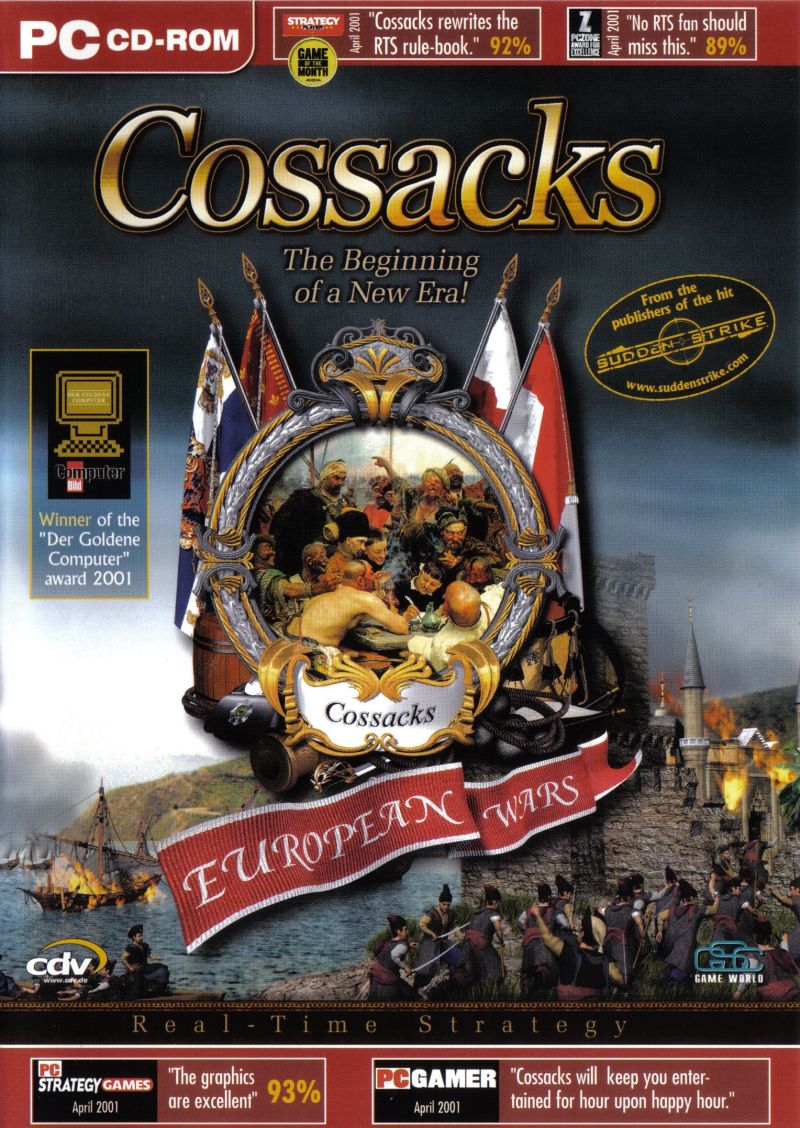 INFORMATION ABOUT THIS CONTENT:
Originally posted: cdmag.com (LINK) (ARCHIVED)
Date of publish: 13.12.2000
Author: Bill Hiles
Language of publish: english