---
During the last week or so COSSACKS: European Wars has shot high into the charts and once you play it you'll understand why. It is quite simply the best real time strategy around at the moment and certainly one of the best since Dune II introduced the genre more than a decade ago.
The thing you'll notice immediately is the superb clarity of the graphics and the fantastic attention to detail. This alone provides plenty of reasons to continue playing, just to try and find some fault with it – but I didn't…! The water laps against the sandy beaches and kindles a desire to holiday but, even though the grass is green and the architecture excellent, this is not a place you'd want to visit…! This is war-torn Europe during the 16th, 17th and 18th centuries – a period filled with empire builders and conquerors.
I always prefer to start RTS games with the single-player scenarios before moving on to the full campaigns – I also rarely read a manual unless I'm stuck but in this case I should have done things the other way around…! The tutorial sessions are on the campaign maps and I got a little confused initially. Nevertheless. It is a game you could pick up and play without too much hassle but there are, as there should be, a lot of decisive factors to be monitored, strategically managed and carefully manipulated – all factors well documented in the 200-page manual (if you read it).
Nevertheless, resource management, unit creation, building upgrades and weapons manufacture are, to RTS fans, a way of life (or a way of death) and with 16 nations involved in the gameplay all the dirty tricks of war are involved. Each country has specific architecture as well as military and economic strengths and the scenarios are based on actual historical events. For a historian this is fantastic but for the rest of us it simply means that you'll be getting amazingly detailed and contoured maps that must be used to your best advantage.
Your resources will be coal, stone, iron, gold, wood and food, certain quantities of which are used in the construction of your buildings and units. However, more is required each time one of your men fires a shot so constant harvesting, mining and quarrying is a definite must…! This may keep the peasants busy but it also keeps players on their toes, as certain items seem to disappear almost immediately. The market is of utmost importance here as huge quantities of any resource can be exchanged for another (at a suitable exchange rate, of course) but one way to maximise these resources is to ensure that you have upgraded all your facilities to their limit. This can multiply one peasant's output considerably and reduce the cost of certain structures. It also ensures that your fighting forces are tooled up with the best equipment, armour, horses and weapons and are ready for the fray.
Believe it or not you can apparently control up to 8,000 units in battle and their numbers only seem limited by the number of dwellings you have constructed. This can make for some awesome if a little confusing, combat. You'll have rifle volleys from your musketeers, pike-men impaling each other, swordsmen hacking off chunks, long-range artillery bombarding the area and tower fortifications peppering the action from hilltops. It really is superb to watch but often a nightmare to control – especially when you always have one eye on those resource meters. .
Land confrontations predominate in COSSACKS but naval battles play a huge part too…! You can build galleys and frigates, among others, and these can also be utilised to bombard shoreline building and troops from the safety of the sea as well as moving your forces to strategic areas which all helps to make COSSACKS: European Wars the definitive RTS around at the moment.
---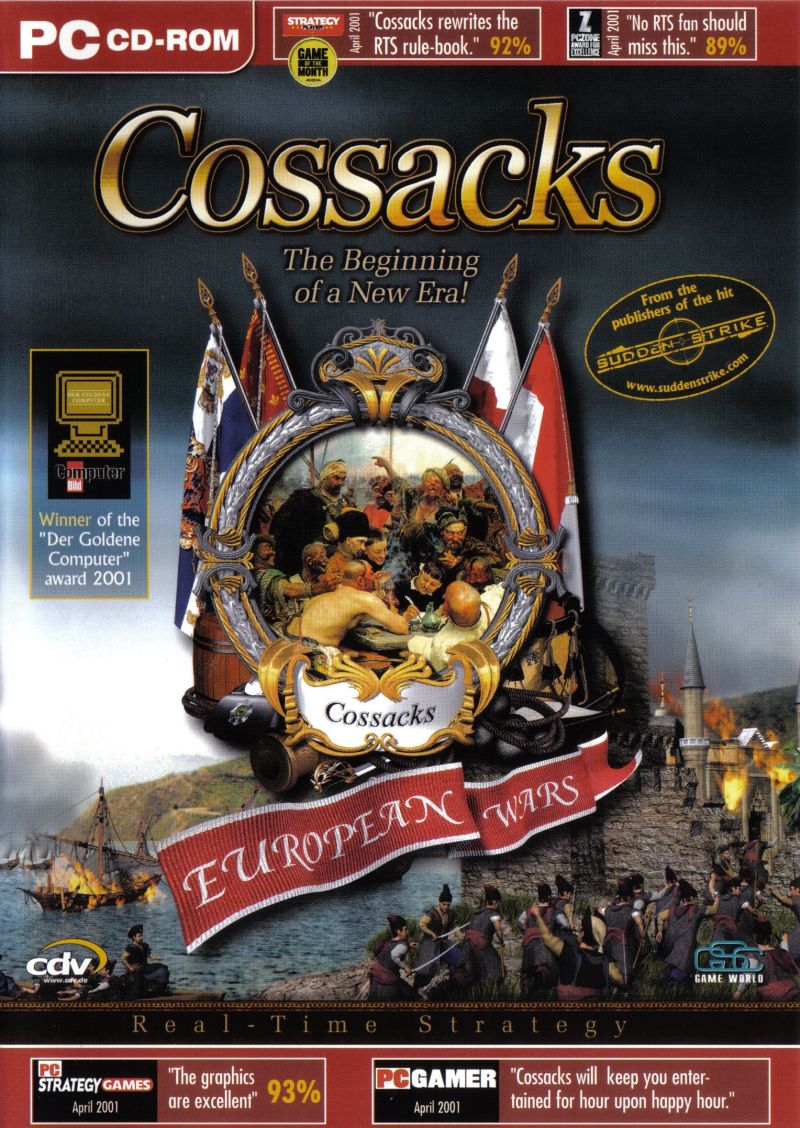 INFORMATION ABOUT THIS CONTENT:
Originally posted: gamepage.co.uk (LINK) (ARCHIVED)
Date of publish: 04.2001* (exact date is not known)
Author: unknown
Language of publish: english