---
The art of reviewing an add-on. By Rhianna Pratchett
Cossacks: European Wars was one of the surprise RTS successes of last year, turning historical warfare into an art form. Big, beautiful and imbued with more history than a retired general's bedtime reading, it gave us vast numbers of troops to manipulate and send to their deaths by the thousand. An expansion was pretty much inevitable after it reached the number one slot in the charts, before being knocked off by Black & White.
The developers have undoubtedly taken the safe road with Art Of War, by actually paying attention to the clamorings and mutterings from various Cossacks forums, and have tried as much as possible to incorporate the wishes of their fans. Most areas within the game have been addressed and not only does the expansion contain plenty of new campaigns and missions but also lots of extras such as global rankings, alliances with AI nations and the ability to give orders while paused.
Helpski
Art Of War also comes with a full map and scenario editor, which was in the original Cossacks, but only in its original Russian form, something of a hindrance to the vast majority of English-speaking people. This is the perfect way to make the most of the new textures and scenery extras, and it's great for creating your own scenarios and battles and allowing you to make the most of the new peacetime mode. This mode allows you to set territorial boundaries which cause instant death when crossed within a certain time frame, and it helps do away with rush tactics.
HUUUUUUge
The maps are huge, 16 times bigger than the original ones to be precise, and at the largest size it takes the slowest unit 1hr 40mins to cross it from corner to corner. In fact The Art Of War in general seems to be geared towards longer lasting battles, even the missions often see you controlling a small number of forces and banging away at some huge fortress for hours.
This style of gameplay, as with the original, might not be to the taste of every RTS fan. To call it a purist's strategy game would perhaps be a little snobbish, but it certainly remains one of the most detailed and realistic (in terms of economy and scope) around at the moment. Although it may not offer an answer to all your Cossacks woes, simply because at the end of the day you're playing within the constraints of the game against a computer with limited AI and not a free-acting, free-thinking human, The Art Of War is still a solid, comprehensive follow up to a great game.
8.3
Editor's note: Since PC Zone was owned by CVG at the time, the same article appeared in the aforementioned newspaper:
---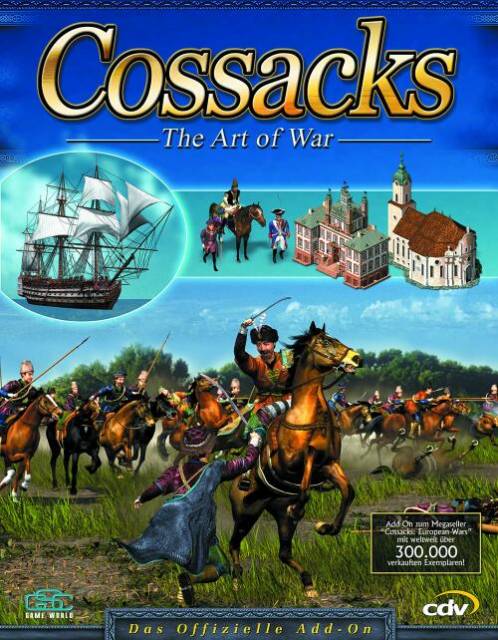 INFORMATION ABOUT THIS CONTENT:
Originally posted: computerandvideogames.com (LINK) (ARCHIVED)
Date of publish: 19.02.2002
Author: Rhianna Pratchett
Language of publish: english