---
Battles get even bigger in this add-on to the successful musket-age RTS, Cossacks: European Wars.
Most developers seem to specialise in one particular genre of gaming, rarely venturing too far beyond the warming glow of their trademark action-shoot 'em up, strategy game or RPG. Some make transitions to other genres over the course of years, but few manage to multitask the way that Ukrainian-based GSC Gameworld has over the past 12 months. Having first made a name for themselves in the spring with the English version of Cossacks: European Wars, a real-time strategy game, GSC then proceeded to launch a more than respectable, all-action first person shooter this Autumn, Codename: Outbreak. Lest anyone accuse them of sitting on their laurels, this add-on pack for Cossacks is due just after Christmas. Fans of the musket should have a bloody new year indeed.
The game features five new campaigns with thirty missions, located in Prussia, Austria, Saxony, Algeria and Poland while two new playable nations have been included too – Denmark and Bavaria. Like all other nations these have their own particular specialist units, a musketeer in the case of Denmark and a hussar in the case of Bavaria.
There will be six new historical battles included in the game as well – the English Civil War clashes at Dunbar in 1650 and Marston Moor in 1664, the battles of Newport and Mook in the Dutch Revolution, the battle of Rimnik in 1789, during the Russo-Turkish War and, finally, Hohenfriedberg in 1745 during the Austrian war of succession.
Apart from new campaign features and battles other gameplay enhancements have been made too. For instance, you can now opt for a period of peace before the military part of a mission begins – allowing you to build fortifications and armies for a much larger scale clash. This can be activated for both single and multiplayer games. This time around you'll also be able to group multiple unit formations into much larger army formations and move them as a single unit on the battlefield, while cannon can be given an area attack order, rather than having to be targeted on a particular unit.
For those into naval gazing there are six new ships in Cossacks: The Art Of War, including Nelson's Victory (apparently renamed Victoria for reasons unknown) – the most powerful naval unit in the game – plus a Turkish yacht and a Venetian galleass (a larger sail- and oar-powered version of the standard galley). Although the graphics will be familiar to Cossacks fans, some of the maps will be up to four times bigger than in the original game.
Cossacks: The Art Of War is scheduled for a January 2002 release and will require an original copy of Cossacks: European Wars to run. Due to modifications you will not be able to move save games between the two.
---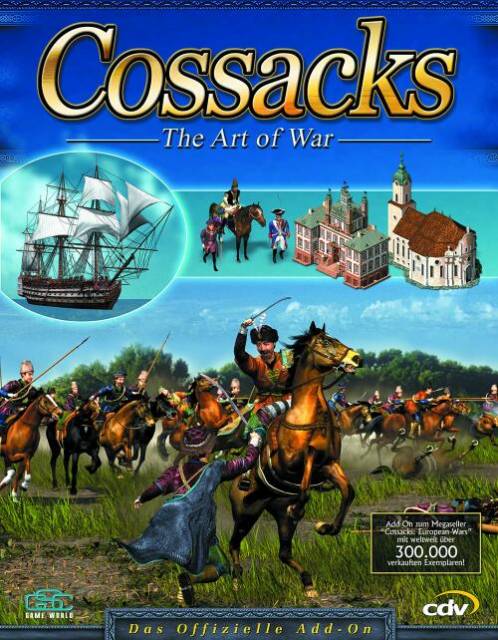 INFORMATION ABOUT THIS CONTENT:
Originally posted: GameSpot.co.uk (LINK) (ARCHIVED)
Date of publish: 15.11.2001
Author: Alan Dykes
Language of publish: english