---
Featuring more than 35 enhancements to the original, The Art Of War is designed to add a new lease of life to the critically acclaimed game, which went straight to number one when it was first released in March 2001 and been a permanent fixture in the PC top ten ever since (source ChartTrack 2001).
Among the new features are a map editor, more nations and new ships. While many of the redesigned elements are designed to make the single player game more dynamic, additional multiplayer modes will also enable players online to access statistics and historical data on their opponents, plus a player ranking system.
"Cossacks' blend of accessibility and depth of gameplay made it a fine game when it was first released, but technology moves so quickly in this market that now is a good time to put all these refinements and extras into a single package," says Leo Zullo, CDV's UK marketing manager.
"We know there are many thousands of people still playing Cossacks on a regular basis. We hope that Cossacks: The Art Of War will bring a new dimension to the game for them and for anyone new to this title."
New features in Cossacks: The Art Of War include:
Seven new ships including the giant Ship-of-the-Line, modelled on Nelson's Victory.

Two new nations: Bavaria and Denmark.

Five new campaigns based in Prussia, Austria, Saxony, Algeria and Poland, each with adjustable difficulty level.

New single missions.

New historical battles.

Play alongside with computer allies against mixed teams.

Improved interface and formation handling.

Tips and tricks on the specialities of the units and nations.

Map editor.

Record and replay games.

Expanded internet play. Get detailed statistics on your opponents and their history, gain ranking points and earn medals.
Cossacks: The Art Of War will be published for PC CD-ROM and is scheduled for release in the UK in January 2002.
Players will need a copy of the original Cossacks: European Wars in order to upgrade to the add-on package.
---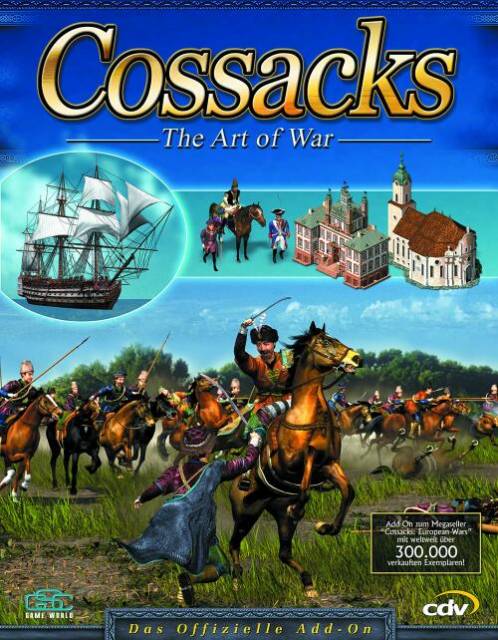 INFORMATION ABOUT THIS CONTENT:
Originally posted: Worthplaying.com (LINK) (ARCHIVED)
Date of publish: 27.09.2001
Author: Rainier
Language of publish: english