---
After a gruelling 10-hour battle, one nation emerged victorious in the Cossacks: European Wars 16-Nation Challenge. With some of the best RTS players in the world participating, and high-value prizes as well as national pride at stake, it was Lucas Hoyle, a 25 year old representing The Netherlands, who came through to win. Some snapshots can be seen here.
Lucas scooped £250, a set of Yamaha speakers, Microsoft Sidewinder RTS mouse, and a selection of Cossacks merchandise in this tournament organised by Cossacks publisher CDV Software Entertainment.
The Cossacks 16-Nation Challenge brought players from 16 different European nationalities together at The Playing Fields in London on Saturday March 24. Entrants battled it overnight until 8.00am on Sunday morning at The Playing Fields in London (www.theplayingfields.co.uk).
Accents of all kinds echoed throughout the night and morning. The 16 competitors were split into four groups of four nations, each one battling in a free for all, with the last hour devoted to a grand final between The Netherlands, Turkey, Venice and Poland.
Each player demonstrated their own style of strategic and tactical manoeuvres. Austria's policy was an all-out charge and pillage. The English were cheated of glory but fought valiantly. The Spanish were highly defensive and attempted to reconstruct the Great Wall of China to deter invasion.
The final round between the last four proved to be a showdown of epic proportions, with Turkey coming in second for a runners-up prize of £150, Microsoft Sidewinder RTS mouse, and Cossacks goodies. Venice fought to third placing winning £100, the mouse, and goodies, with Poland finishing fourth. No one left entirely empty-handed that night, with all 16 entrants earning a special Cossacks goodie bag.
Lucas Hoyle, the winner for The Netherlands said after his 10-hour marathon victory: "Cossacks: European Wars is much better than Age of Empires." Johan Gray for Prussia praised the in-depth CD-ROM encyclopaedia, which accompanies the game, while Rhianna Pratchett, representing England, reaffirmed that "Cossacks has got a great future online. I´ll definitely be devoting some more time to gratuitous pikemen murdering."
Terry Malham, CDV President, commented on the event, "It was a great night for all involved. It was good to witness the game put through its paces, and with some of the battles going on the determination shown was a joy to see, and an affirmation that the title will do well in the UK. It was an acid test for the game and happily it passed with flying colours".
Cossacks 16-Nation Challenge – the competitors
England: Rhianna Pratchett
Netherlands: Lucas Hoyle (1st)
Poland: Peter Kwiactkowski
Ukraine: Alexander Shevtchenko
The 16 Nations Cossacks Tournament classified results can be found here.
BONUS: Coverage

from the cs0 clan website:
The night started badly with all three [cs0] players being put in the same qualifying group, but then again we like a challenge 🙂
By about the middle of the competition Weley was near the top of the table with QED and Peace_Disrupter not far behind.
Then Peace pulled out an almighty comeback and looked like nothing was going to stand in his way… Which it didn't as hes totally dominated the final from the off, and took first prize!
---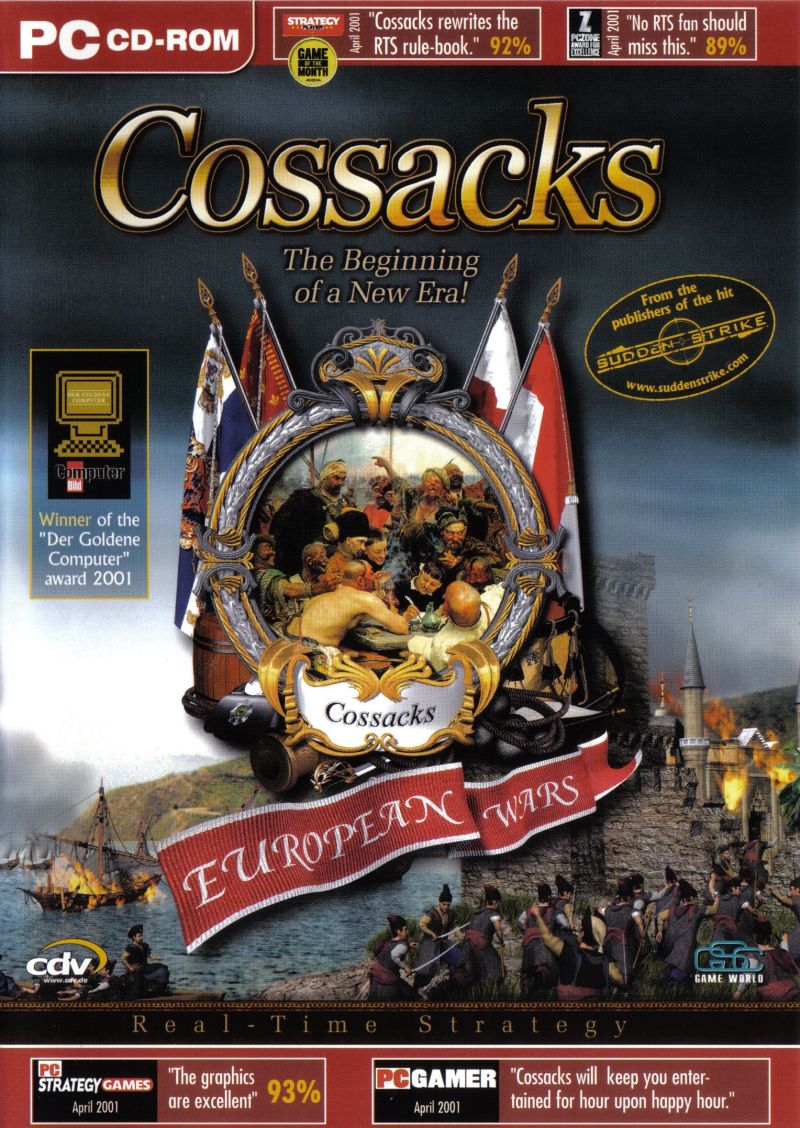 INFORMATION ABOUT THIS CONTENT:
Originally posted: Cossacks.com (LINK) (ARCHIVED), ThePlayingFields (LINK) (ARCHIVED), clancs0.com (LINK) (ARCHIVED)
Date of publish: 27.03.2001
Author: unknown and Major Ted and unknown
Language of publish: english