---
Cossacks on top position in front of Desperados and Black & White
The RTS blockbuster Cossacks: European Wars from CDV Software once again took over the top position of the French Macromania Charts after already having occupied it on the 2001-04-16. On the 2001-04-30 CDV′s mega-seller Cossacks was to be found on the top spot in front of Desperados and Black & White.
The coming together of French distributor Focus Marketing and its German partner CDV Software last week in the headquarter of the German publisher in Karlsruhe thus was a joyful and highly optimistic meeting.
'With a product such as Cossacks: European Wars and a sales partner as professional as Focus Marketing it was clear from the beginning that CDV would land a huge hit in France. However we are very happy about this outstanding and lasting success!,' Wolfgang Gäbler, CEO of CDV Software explains.
The French press meanwhile celebrates the triumphant success of the German publisher as follows:
'The rich historical background, the artificial intelligence, the units and the outstanding battles are of premium quality. […] The essence of the game lies in its historical as well as in its tactical precision,' French game magazine PC Team (April 2001) explains and rates the RTS blockbuster with 86%.
PC Jeux (April 2001) rated Cossacks: European Wars with excellent 85% and voted it Game of April 2001.
'Game of April 2001! […] The lasting action and the numerous tactical possibilities render this game an excellent RTS game! The outstanding depth, […] the direct influence of the terrain on the line of fire and the various possibilities of troop-movement are a real treat!'
PC Fun (April 2001) also voted the RTS mega-seller Game of April 2001 and rated it with 18 out of 20.
'Game of the month! […] All in all, Cossacks: European Wars is a huge game, in the single-player as well as in the multi-player mode. Due to a 3D-isometry, the graphics are just breath-taking. […] The enormousness of the armies is impressive and the quality of the realization is just as captivating. Cossacks: European Wars sets pretty high new standards. All that is left to do, is to bow your head to the young and highly promising developing studio GSC Game World for their excellent work.'
More praise is to be found in the games magazine Gen4PC (April 2001):
'Very realistic with a fluid command of the truly interesting units, regardless of their amount.'
And last but not least, PC Magazine (N° 155, April 2001), whose editors were enthusiastic about the Cossacks-battles, rated the game with 17,5 out of 20.
'Cossacks has brought new life to the RTS genre and is a real innovation regarding the graphics.'
---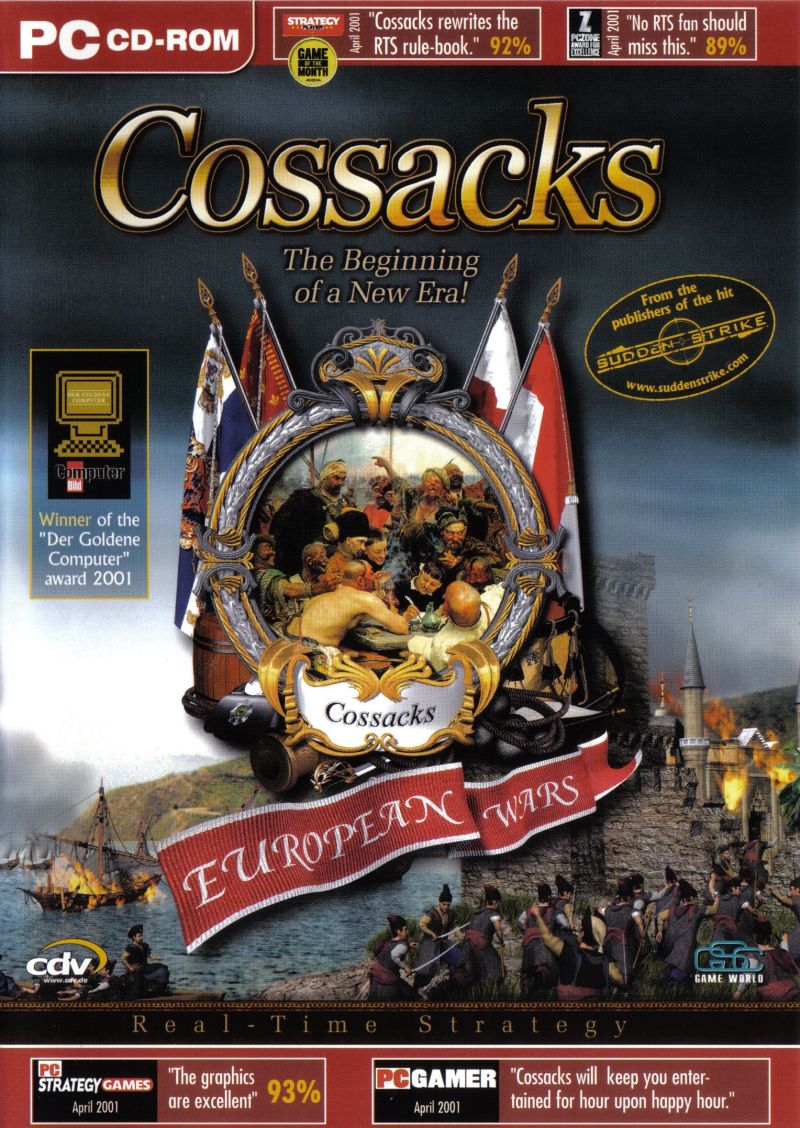 INFORMATION ABOUT THIS CONTENT:
Originally posted: Cossacks.com (LINK) (ARCHIVED)
Date of publish: 11.05.2001
Author: unknown
Language of publish: english